Organization Mapping Tool (OMT)
This digital tool is a web version of the original, open source Organizational Mapping Tool (OMT), created by Bess Rothenberg. The open source version is actively used by leading foundations and nonprofits, which is why we chose to make a digital adaptation of it, to benefit nonprofits and consultants who are looking for a convenient digital way to do a high quality organizational assessment with an automated compilation of results.
If you would like the review the original OMT, on which we based this web version, please click here. We also recommend consulting this facilitator's guide for use with the original OMT. Please note this guide describes a process of coming to consensus collectively, in-person yet it provides useful guidance on how to conduct an assessment, in particular the importance of external facilitation of your process which we strongly recommend.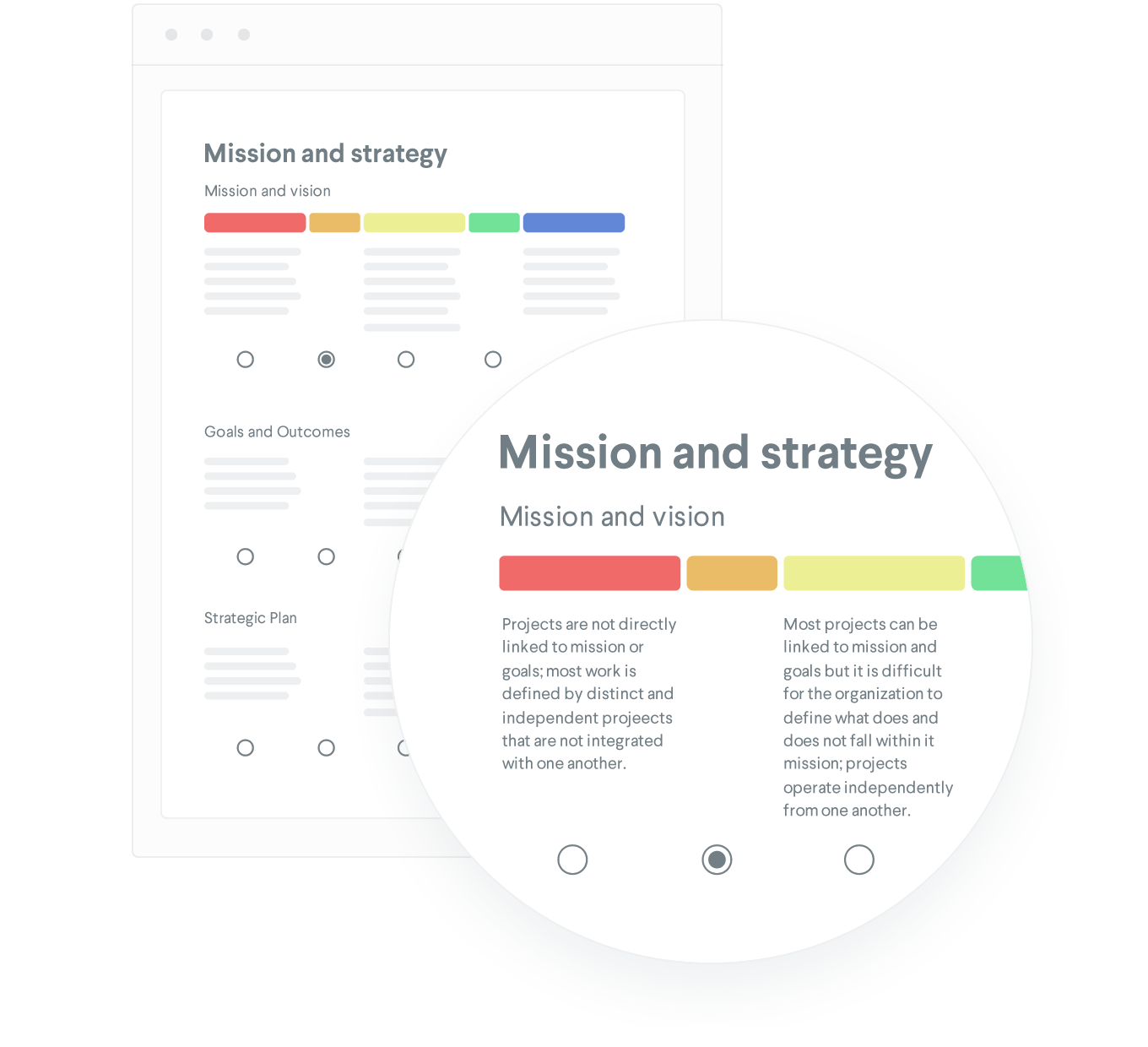 Our web version offers:
Easy to launch surveys and reminders
Up to 150 respondents
Automated score calculation
Purpose-designed report (sample)
Anonymity of responses ensured
Soon: set goals and validate progress
Three steps to succeed your organizational assessment:
1

Invite all your staff to participate and include some board members as suitable. This will give you a rich and broad perspective.

2

Use the report to support deep discussions on priorities and plans for developing your organization. These will be incredibly enriching. Use an external facilitator!

3

Finish by writing up a plan of action, explaining priorities, goals, and how you will reach those goals.
The process in which a tool is used is more important than the tool itself. Tools work best in a process facilitated by a skilled consultant."
If supported by effective and experienced facilitators, with clearly stated purposes, using a process 'owned' by the organization, organizational assessment tools can be extremely useful.""