Are you a nonprofit leader? Then this leadership assessment tool is for you. Whether experienced or a beginner, it will guide you on your journey to achieving your highest potential.
Nonprofit Leader 360 is based on a leadership assessment questionnaire, tested on thousands of executives, authored by famed executive coach Marshall Goldsmith and published in his bestseller "What Got You Here Won't Get You There: How Successful People Become Even More Successful". We thank Marshall for granting us permission to use is, so it can benefit nonprofit leaders worldwide!
Key features of Nonprofit Leader 360:
Easy to set up, launch in five minutes.
Beautiful, intuitive report, see the essential at a glance.
Guaranteed anonymity encourages frank feedback.
Confidential: it is your report, you control who sees it.
Nonprofit-friendly pricing.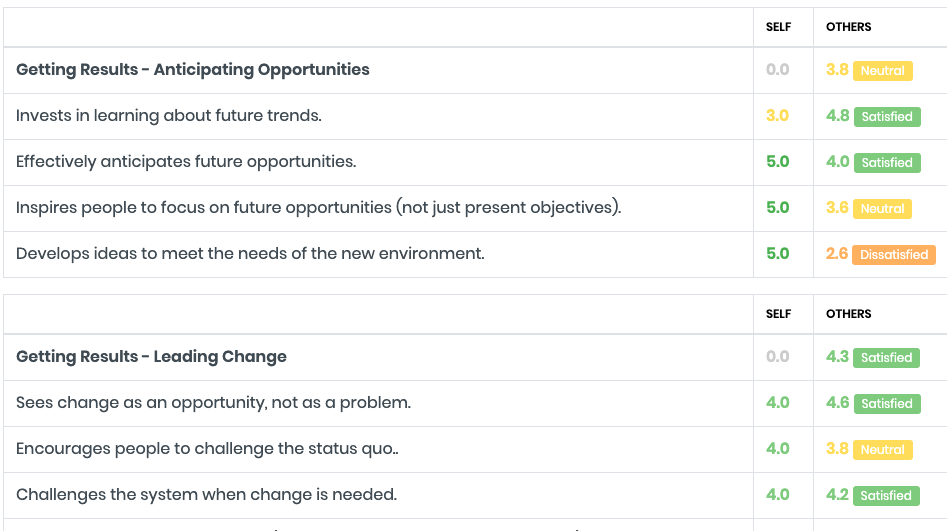 Ideal for nonprofits, the Nonprofit Leader 360 survey contains 72 engaging questions covering these key competencies:
Being Ethical: Appreciating Diversity - Demonstrating Integrity
Leading People: Creating a Team Spirit - Building Useful Alliances - Sharing Leadership - Developing People
Getting Results: Creating a Vision, Strategy and Results - Leading Change - Anticipating Opportunities - Ensuring Quality and Performance - Developing Technological Savvy
Improving oneself: Achieving Personal Mastery - Listening and Feedback
What is a Leadership 360 Assessment?
It is a very effective form of leadership development, allowing leaders to evaluate their skills, effectiveness and influence by collecting insightful and frank feedback from colleagues: subordinates, supervisors and peers.
Gain crucial self-awareness
Successful leaders may they think they have all the qualities they need to continue succeeding, and feedback from a 360 helps them become aware flaws which stop them from going onto another level. Some inspirational articles:
Top executives need feedback—here's how they can get it - By Robert S. Kaplan in McKinsey Quarterly
Top Ranked Leaders Know This Secret: Ask For Feedback - Joseph Folkman in Forbes
Grow a feedback culture
The success of a leadership 360 depends on whether colleagues feel able to speak frankly. This can be tricky! Some articles to help you create a feedback culture.
The Importance Of A "Feedback Culture" – And How You Can Build It In The Workplace - TruQu
How the Best Leaders Get Truly Honest Feedback From Employees - by Robert Glazer in Inc.
How to do your Nonprofit Leader 360 assessment:
Find a trusted person to help you digest and apply the feedback: an executive coach, a mentor, a peer, or your director of human resources.

Send the survey to 10-15 subordinates, supervisors and peers (minimum 5).

Review the feedback with your coach and decide what to improve first.

Thank all those who gave you the valuable feedback!

Repeat on a yearly basis to measure and validate your progress!